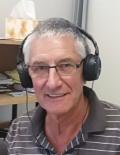 Kevin Jameson
Show: Jammey Jam Session
Time of shows : Thursday Afternoon 1pm to 3pm
Hi everyone, I am Kevin Jameson born and bred in Dannevirke & still here so Dannevirke's still got some thing going for it,
With the housing booming.Had a motor trimming and upholstery business and having sold that another presenter asked Me to join the local Radio station 107fm so here I am.
I have always like music of all types, Karaoke singing with My Wife Joan.
My 3 Adult children all love music so it rubs off. May it long continue.
Cheers Kevin Jameson "Jammey Jam Session"
Please Go to the Members Name and highlight the member of the TEAM to see their page.