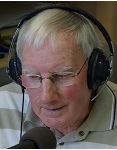 Bruce Spence
Presenter
Shows: Music,Musings & Mischief eh eh Brucie : eh eh Brucie Motoring Programme
Time of shows : 1300- 1500 on Wednesday, 1st & 3rd Wednesday of Month 1830 - 1930.
Do you enjoy a certain type of music without any interruptions or idle chatter?.

If so don't tune into Radio Dannevirke 107 fm every Wednesday from 1.00 till 3.00pm,
As the programme presenter "Eh Eh Brucie" plays a "smorgasbord" of music, Has Local news, Interviews, Musings plus brickbats & bouquets. An entertaining 2 hour show of easy listening music, Nothing too controversial.!!
Don't forget to join Eh Eh Brucie for Motoring, Nostalgia, Boys & their toy's, Blasts from the past. Local motoring scene and interviews, Plus car club news. Motoring tips etc.
1st & 3rd Wednesday of the month starting at 6.30 to 730pm.
Please Go to the Members Name and highlight the member of the TEAM to see their page.